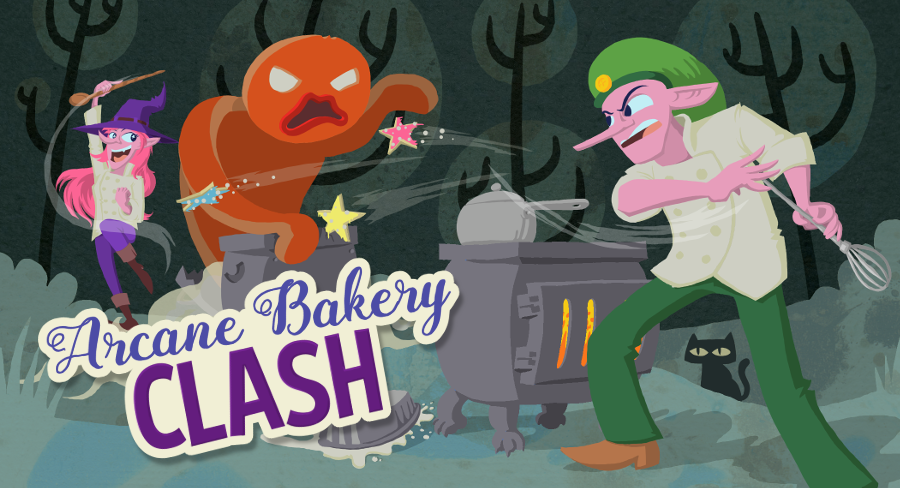 Arcane Bakery Clash
Buy Arcane Bakery Clash at Buttonshy.com
---
It's been a long time coming. You and a particular co-worker at the Arcane Bakery simply cannot work together anymore. In a moment of frustration, you challenge them to a duel: After close, no holds barred. The loser resigns. And cleans up the mess.
---
Arcane Bakery Duel is a tiny card game for two players, with a memory-based timed combat mechanic. Put recipes in the oven, and take them out at the right time to confuse, steal from, and cripple your opponent, while building up your own strength.
Defend yourself with a Impenetrable Fondant Field or a Toffeeskin potion. Send razor-sharp Cookie Shards flying at your opponent, or slow them down with a frosty Cone of Ice Cream.
Unfortunately if you mess up your timing, the whole batch could wind up exploding in your face.
This game was created for the 2017 9-Card Nanogame contest on BoardGameGeek, and, while playable, is not quite "finished". Any feedback you can give would be very appreciated.
EDIT: Arcane Bakery Clash is now available as part of the Buttonshy Games Wallet Game Line.

---
Changelog:
03-17-2018: Added Rules and Cards for the 18-card version.
03-27-2017: Changed the cards as a result of playtesting. Made some minor rules rewording.
03-30-2017: Made some other minor changes to cards. Due to contest rules, removed D12s from component list. Added Stamina Coin to track extra health.
03-31-2017: Added line art illustrations to the cards.
04-10-2017: Cleaned up rulebook in response to feedback. Removed Stamina Coin rule, max health is now 6.
04-13-2017: Adjusted baking times and strength of cards. Clarified some card text. Added clarifications in the rules. Added a hand limit.
Download
Click download now to get access to the following files:
Arcane Bakery Clash Cards (9 Card).pdf
649 kB
Arcane Bakery Clash Rules (9 Card).pdf
150 kB
Arcane Bakery Clash Rules (18 Card).pdf
72 kB
Arcane Bakery Clash Card Fronts 1 (18 Card).pdf
576 kB
Arcane Bakery Clash Card Fronts 2 (18 Card).pdf
595 kB
Arcane Bakery Clash Card Backs (18 Card).pdf
471 kB